Emola Farm, located in Mabank Texas, offers custom gates for sale. We manufacture, weld, paint, deliver, and install custom farm gates. Our custom gates are also available on a wholesale basis, as well. Inquire about our wholesale pricing.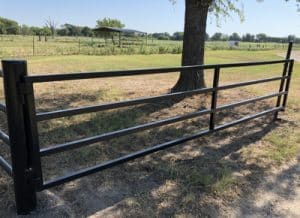 From functional to elaborate, Emola Farm offers farm and ranch gates from 4' to 20' (four foot to 20 foot) or even up to a double-gate in 24 foot lengths. It's common to use 14 gauge steel, but we build your custom gate completely to your specifications. If Emola Farm doesn't have the precise size you need, we will custom make one for you. Custom constructed ranch and estate entry gates add that last touch of elegance for your property (and assist your city locked friends in discovering your house!).
Heavy galvanized steel pipe swing or slide gates provide years of difficulty free operation and security for residential, agricultural and commercial applications. Gate accessories consist of rugged, reliable electrical gate openers, automobile detectors, digital access keypads, wired or wireless proximity and card readers, and solar powered gate openers.
Below are photos of our custom gates.