How to Raise Baby Chicks – A Guide to Rewarding and Beneficial Chicken Rearing
Are you considering raising baby chicks? Discover the joy and benefits of chicken rearing with our comprehensive guide on how to raise baby chicks. From the immense satisfaction of watching them grow to reaping the rewards of fresh eggs, this fulfilling hobby can provide countless valuable experiences for both adults and children alike.
Before embarking on this exciting journey, it's important to consider a few key factors. Firstly, be aware that raising baby chicks requires a significant time commitment. Just like any other pet or livestock, these adorable little creatures need proper care, attention, and feeding. Secondly, consider space requirements for housing. Chicks need a safe, warm, and well-ventilated environment with enough room for them to grow and roam. Ensuring adequate protection from predators is also crucial.
By taking these factors into account and following our expert advice and tips, you'll be on your way to raising happy and healthy chicks in no time. So, let's dive into the fascinating world of chicken rearing and learn how to raise baby chicks like a pro!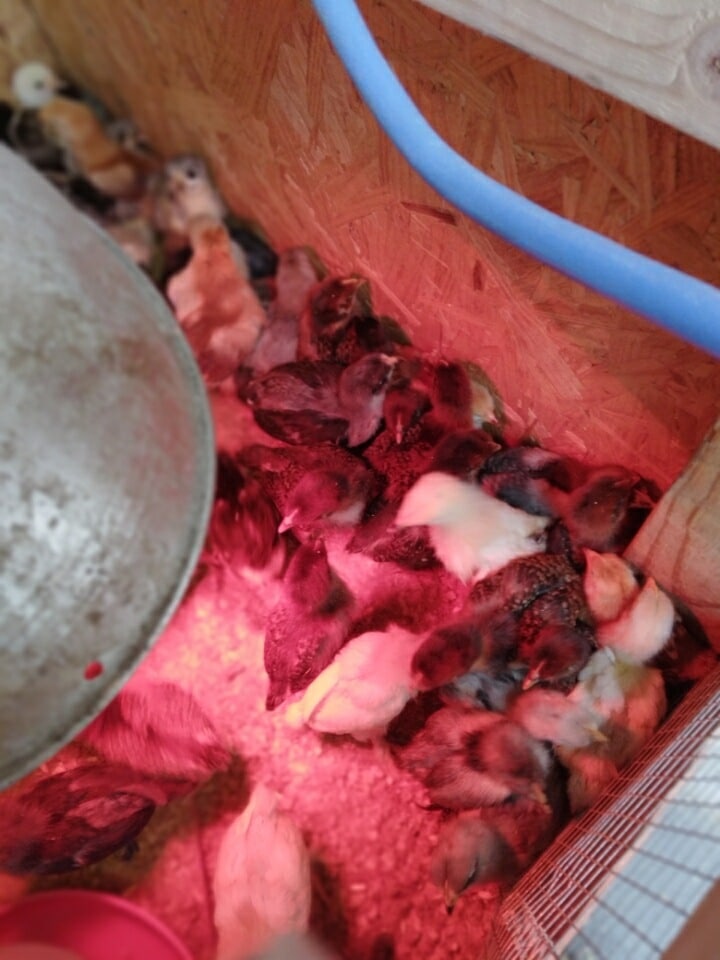 Chicken Breeds: Different Breeds of Baby Chicks and Their Unique Characteristics
When it comes to raising baby chicks, knowing about different chicken breeds is essential. Each breed has its own unique characteristics and traits that make them suitable for backyard flocks. Here's an overview of popular chicken breeds and what sets them apart:
A. Overview of Popular Chicken Breeds Suitable for Backyard Flocks
1. Rhode Island Red: This breed is known for its excellent egg-laying capabilities and hardiness. Rhode Island Reds are also friendly and easy to manage, making them a popular choice for backyard chicken enthusiasts.
2. Plymouth Rock: Also known as Barred Rocks, Plymouth Rocks are dual-purpose birds. They are great egg layers and have a calm temperament, making them ideal for families.
3. Leghorn: Leghorns are famous for their egg-laying abilities, producing large quantities of white eggs. These birds are active and independent, thriving in free-range settings.
4. Sussex: Sussex chickens are known for their versatility. They are great egg layers, have good meat quality, and come in various color patterns. Sussex chickens have a docile and friendly temperament.
B. Unique Characteristics and Traits of Each Breed
1. Rhode Island Red: Apart from being excellent layers, Rhode Island Reds have a vibrant chestnut feather color. They possess a calm disposition and adapt well to various climates.
2. Plymouth Rock: Barred Rocks have striking black-and-white striped feathers. These birds are known for their friendly and docile nature, making them a favorite among families with children.
3. Leghorn: Leghorns are slender and agile birds with glossy white feathers. They are active foragers and thrive in free-range environments. Leghorns are relatively independent and require less attention compared to other breeds.
4. Sussex: Sussex chickens are available in various color patterns including white, red, and speckled. They have a calm temperament and are well-suited for both egg production and meat quality.
C. Factors to Consider When Choosing the Right Breed for Your Needs
When selecting a breed for your backyard flock, there are several factors to consider:
Climate: Some breeds are better suited for colder climates, while others thrive in warmer regions. Consider the climate of your area when choosing a breed.
Space: Certain breeds require more space to roam and forage compared to others. If you have limited space, opt for smaller breeds or those known for their adaptability.
Egg production: If your primary goal is egg production, choose breeds known for their high egg-laying capabilities.
Temperament: Consider the temperament of the breed, especially if you have children or other animals. Some breeds are more docile and friendly, while others are more independent.
By taking these factors into account, you can select the right breed that suits your needs and ensures a successful backyard chicken experience.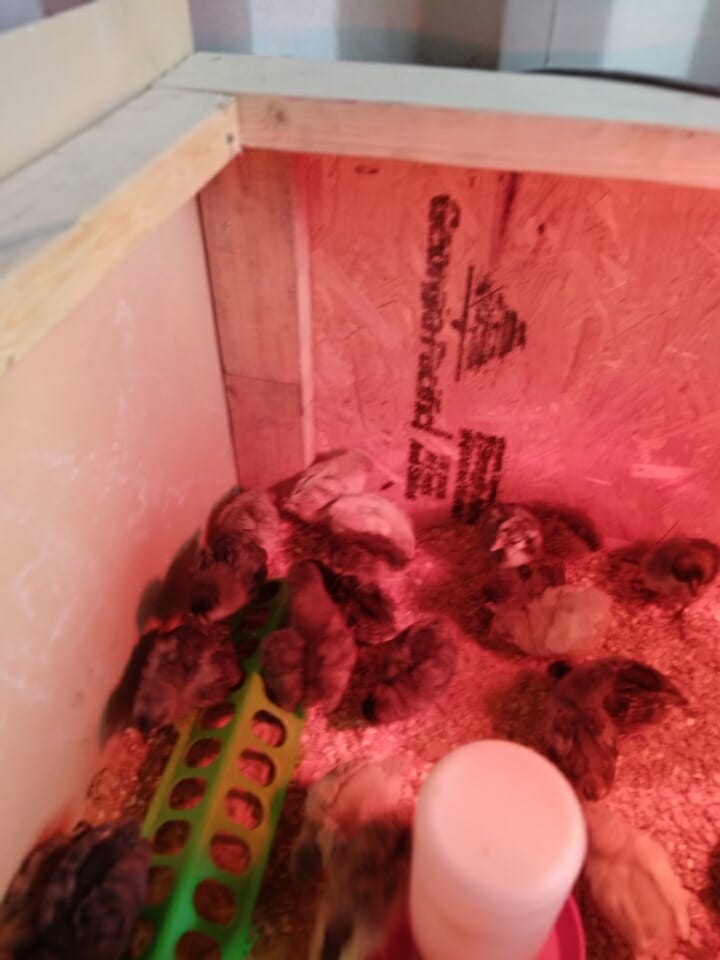 Housing and Brooding: How to Set up a Suitable Brooder for Baby Chicks
When it comes to raising baby chicks, creating a well-designed brooder is essential for their health and development. The brooder serves as their home during the early weeks of their lives, providing them with a safe and comfortable environment to thrive in.
A. Importance of a well-designed brooder for chick health and development
A well-designed brooder plays a crucial role in ensuring the optimal health and development of baby chicks. It helps to mimic the conditions they would naturally experience under a mother hen's care. By providing a suitable brooder, you are creating a nurturing environment that promotes their overall well-being.
B. Choosing the right location and size for the brooder
When setting up a brooder, it's important to choose the right location and size. Find a spot that is well-ventilated, free from drafts, and protected from predators. As for size, consider the number of chicks you have and allow enough space for them to move around comfortably as they grow.
C. Heating requirements and equipment for maintaining proper temperature
Proper temperature is crucial for the well-being of baby chicks. They rely on external sources of heat to maintain their body temperature during the early stages of their lives. It's important to provide them with appropriate heating equipment, such as a heat lamp or brooder heater, to keep the temperature consistent and within the recommended range for their age.
D. Appropriate bedding materials for comfort and cleanliness
Selecting the right bedding materials is essential for the comfort and cleanliness of baby chicks. Pine shavings or straw are commonly used for bedding as they provide good insulation and are easy to clean. Avoid using materials that can be ingested, such as newspaper or hay, as they can cause health issues.
E. Ventilation tips to ensure proper air circulation
Proper ventilation is necessary to maintain fresh air and prevent the buildup of harmful gases like ammonia in the brooder. Ensure there are sufficient air openings or vents to allow for proper air circulation. However, be cautious not to expose the chicks to drafts as it can lead to chilling.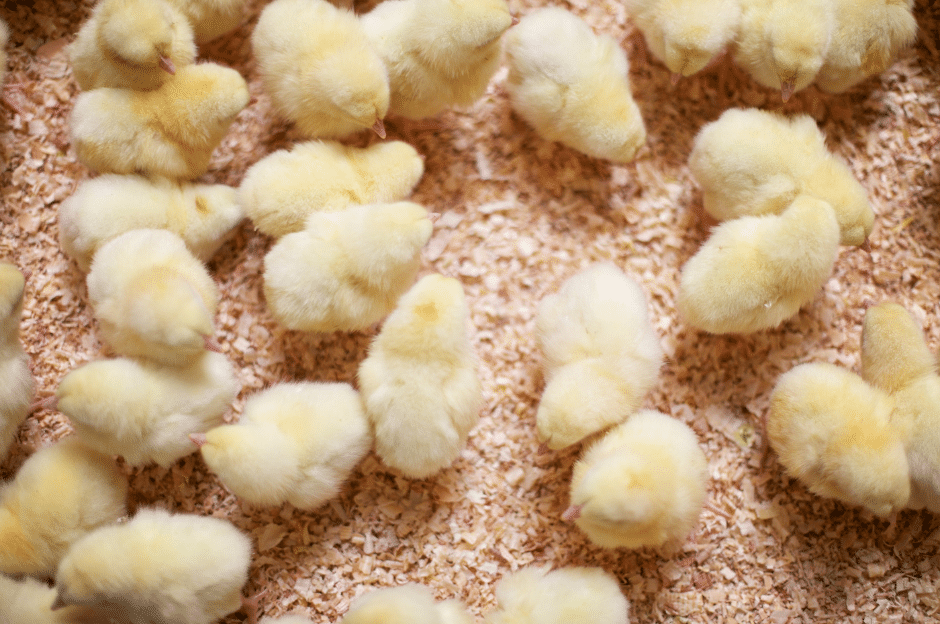 Feeding and Nutrition: Proper Diet for Baby Chicks
Feeding your baby chicks a proper diet is essential for their growth and development. Here are some important considerations:
A. Understanding the nutritional needs of baby chicks
Baby chicks have specific nutritional requirements that differ from adult chickens. They need a balanced diet that provides enough protein, vitamins, and minerals to support their rapid growth in the early stages.
B. Types of feed suitable for different stages of chick development
Chick feed is available in various forms, including crumbles, mash, and pellets. Crumbles are commonly used for baby chicks since they are easy to eat and digest. As they grow older, you can gradually introduce pellets or mash, which they can peck at.
C. Introduction to supplements and their role in chick growth
Supplements can play a crucial role in meeting the nutritional needs of baby chicks. One common supplement is chick grit, which helps them digest their food properly. Additionally, you may consider adding probiotics or vitamins to their diet to promote healthy digestion and overall well-being.
D. Water requirements and tips for providing clean and accessible water
Water is vital for any living creature, including baby chicks. Ensure they have constant access to clean and fresh water. Use shallow containers or special poultry waterers that are easy for the chicks to drink from without the risk of drowning. Check the water regularly and clean the containers to prevent contamination.
Always ensure the water is clean and free from debris.
Place the water containers at an appropriate height for the chicks to access comfortably.
Keep the water containers away from the heat source to prevent overheating of the water.
Following these feeding and nutrition guidelines will help ensure that your baby chicks receive the necessary nutrients for healthy growth. Remember to consult with a poultry nutrition expert or veterinarian to tailor the diet according to your specific breed's needs.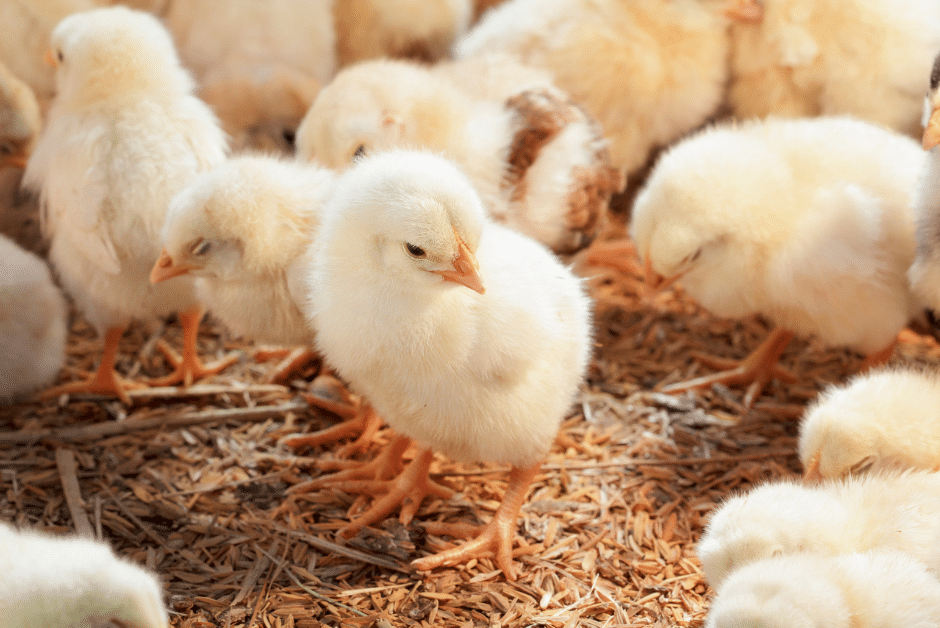 Care and Handling: How to Handle and Interact with Baby Chicks
When it comes to caring for baby chicks, proper handling and interaction are crucial for their well-being and development. Follow these tips to ensure you handle your chicks with care:
A. Proper techniques for holding and picking up baby chicks
Picking up baby chicks may seem simple, but it's important to use the correct techniques to avoid causing them stress or injury. Follow these steps:
Wash your hands thoroughly before handling chicks to prevent the spread of germs.
Approach chicks calmly and with slow movements.
Slide your hand palm-side up under the chick, gently scooping it up. Support the chick's body with your fingers, ensuring a secure grip.
Avoid squeezing or applying excessive pressure on the chick.
B. Importance of socialization and gentle handling for chick wellbeing
Socialization and gentle handling play a vital role in the well-being of baby chicks. Here's why it's important:
Regular interaction with humans helps chicks become accustomed to human presence, leading to tamer and friendlier adult chickens.
Gentle handling builds trust and minimizes stress, which can negatively impact the chick's growth and development.
Handling chicks gently also reduces the risk of causing injuries or trauma.
C. Tips for avoiding stress and promoting positive interactions
Stress can have adverse effects on baby chicks, so it's crucial to provide them a calm and comfortable environment. Follow these tips to avoid stress and promote positive interactions:
Keep loud noises and sudden movements to a minimum around the brooder area.
Ensure the brooder temperature is suitable and consistent, as extreme temperature fluctuations can stress the chicks.
Provide ample space for chicks to roam, exercise, and explore.
Introduce chicks to new experiences and environments gradually, allowing them to adjust at their own pace.
Health and Diseases: Maintaining the Health of Baby Chicks
Ensuring the health of your baby chicks is crucial for their overall well-being. By taking preventive measures and closely monitoring their health, you can keep them happy and thriving. Here are some important considerations:
A. Importance of preventive measures, such as vaccinations
One of the most effective ways to maintain the health of baby chicks is through vaccinations. Vaccinations help protect them from common diseases and prevent outbreaks within your flock. Consult with a poultry veterinarian to determine which vaccines are necessary for your specific breed and region.
B. Common diseases that affect baby chicks and their symptoms
Baby chicks are susceptible to various diseases, such as coccidiosis, Marek's disease, and respiratory infections. Familiarize yourself with the symptoms of these diseases, which may include diarrhea, lethargy, coughing, sneezing, or neurological issues. Prompt identification of symptoms can prevent the spread of disease and allow for early treatment.
C. Identification and response to signs of illness
Regularly observe your baby chicks for any signs of illness. Look for changes in behavior, appearance, or appetite. If you notice any abnormalities or suspect a chick may be sick, immediately isolate it from the rest of the flock to prevent potential contagion. Consult with a poultry veterinarian for further diagnosis and treatment options.
D. Resources for finding veterinary support
It's important to have access to veterinary support in case of emergencies or for routine check-ups and health assessments. Research local veterinarians with experience in poultry care and establish a relationship with them. They can guide you through the health maintenance process and provide necessary medical interventions when needed.
By prioritizing the health and well-being of your baby chicks, you can help them grow into strong and resilient chickens. Implement preventive measures, closely monitor their health, and seek veterinary support whenever necessary. Your dedication to their health will ensure their long and happy lives.
Growth and Development: Understanding the Growth Stages of Baby Chicks
In order to raise healthy and thriving baby chicks, it is essential to understand their growth stages and milestones. By being aware of their development, you can provide the appropriate care and support needed at each stage. Below, you will find an overview of chick growth milestones and timelines, feather development and signs of maturity, as well as guidance on transitioning to adult feed and adjusting feeding schedules.
A. Overview of Chick Growth Milestones and Timelines
During the first week of life, baby chicks go through rapid growth and development. They will double or even triple in size, and their down will be replaced by feathers. During this time, it is important to closely monitor their temperature and provide a warm and secure environment.
Between weeks 2 and 4, the chicks will continue to grow in size and their feathers will become more defined. They will start exploring their surroundings and become more active. It is crucial to provide enough space for them to move around and exercise.
From weeks 5 to 8, the chicks will enter their adolescent stage. They will develop more feathers and their wings will start to grow. At this stage, it is essential to gradually introduce them to the outdoor environment and provide opportunities for them to roam and forage.
B. Feather Development and Signs of Maturity
Feather development is a significant indicator of a chick's growth and maturity. Initially, they will have soft down feathers, which will be replaced by primary feathers that provide insulation and protection.
Once the chicks have fully developed their feathers, they will begin to exhibit signs of maturity. These signs include the ability to fly short distances, roosting on perches, and displaying mating behaviors. It is important to provide suitable perches and nesting areas for them.
C. Transitioning to Adult Feed and Adjusting Feeding Schedules
As the chicks grow, their nutritional requirements change. At around 8 weeks of age, you can gradually shift their diet from starter feed to a grower feed. Grower feed contains a higher amount of protein and nutrients to support their continued growth and development.
Alongside transitioning to adult feed, it is crucial to adjust their feeding schedules. Baby chicks require frequent feedings throughout the day in their early stages. As they grow older, you can reduce the frequency of feedings to twice a day, ensuring they have access to fresh food and clean water at all times.
By understanding the growth stages and development of baby chicks, you can provide them with the care and support they need to reach their full potential. Stay tuned for the next section on behavior and communication, where we dive deeper into understanding chick behaviors.
Behavior and Communication: Understanding Chick Behaviors
Raising baby chicks involves more than just providing food and shelter. It's important to understand their behaviors and communication in order to foster a healthy and stress-free environment for these adorable creatures.
Introduction to Chick Behaviors, Vocalizations, and Body Language
Chicks, like many animals, have their own unique ways of expressing themselves. They communicate through vocalizations and body language, which can tell you a lot about their needs and emotions.
When chicks are content and comfortable, they emit soft, continuous peeping sounds. On the other hand, loud and continuous peeping may indicate distress or discomfort. Pay attention to their behavior and vocalizations to determine if they need any adjustments to their environment.
In addition to vocalizations, chicks also use body language to communicate. For example, when they are cold, they will huddle together to conserve warmth. If they are too hot, they will spread out and pant to cool down. Observing their body language can help you provide them with the right temperature and conditions for their well-being.
Establishing a Bond with Baby Chicks through Positive Interactions
Bonding with your baby chicks is a wonderful way to build trust and a positive relationship. Spend time with them regularly, talking to them in a calm and soothing voice. Handle them gently and avoid sudden or rough movements.
Offer treats such as mealworms or small pieces of fruits and vegetables from your hand. This positive reinforcement not only helps establish trust but also encourages them to associate you with positive experiences.
Remember, chicks are social animals, and they feel more secure when they are together. Always handle them with clean hands and avoid holding them for extended periods, as it can cause stress. By creating a bond based on trust and positive interactions, you'll have happy and well-adjusted chicks.
Tips for Creating a Stimulating and Enriching Environment for Chicks
Chicks, despite their small size, are curious and intelligent creatures. Providing them with a stimulating and enriching environment is essential for their mental and emotional development.
Provide toys and objects: Offer safe and appropriate toys, such as small balls or hanging objects, for chicks to peck and explore. This encourages their natural instincts and keeps them mentally stimulated.
Create a pecking area: Scatter small pebbles or chick-sized grit on the floor of their brooder to encourage natural scratching and pecking behaviors. This helps develop their beak strength and keeps them engaged.
Introduce mirrors: Placing a small mirror in the brooder can provide chicks with visual stimulation. They will be curious and may peck at their reflection, which can be an entertaining and enriching experience.
Offer varied perches: Install perches of different heights and materials, such as branches or dowels, to encourage chicks to perch and climb. This helps in strengthening their leg muscles and keeps them active.
Remember to always supervise your chicks when introducing new objects or elements to their environment to ensure their safety. By providing a stimulating and enriching environment, you'll not only keep them entertained but also promote their overall well-being.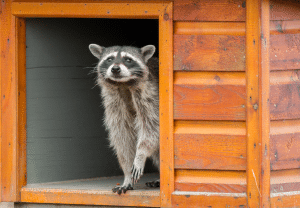 Predator Protection: Measures to Protect Baby Chicks from Predators
Keeping baby chicks safe from predators is essential for their well-being. Here are some measures you can take to protect them:
A. Identifying common predators that pose a threat to baby chicks
It's important to know which predators pose a threat to your baby chicks. Some common ones include:
Raccoons
Skunks
Possums
Foxes
Weasels
Snakes
Hawks
Owls
By learning about these predators, you'll be better equipped to protect your baby chicks.
B. Designing and implementing predator-proof measures for the brooder and coop
To create a predator-proof environment for your baby chicks, follow these measures:
Use sturdy materials like wire mesh to cover windows and openings.
Bury wire mesh at least 12 inches deep around the perimeter of the brooder or coop to prevent digging predators.
Ensure the entrance to the brooder or coop has a secure door that can be locked at night.
Install motion-activated lights or alarms to deter nocturnal predators.
Regularly inspect the brooder or coop for any holes or gaps and promptly repair them.
Implementing these measures will greatly reduce the risk of predators entering the brooder or coop.
C. Precautions when free-ranging baby chicks and integrating with adult chickens
When free-ranging baby chicks or integrating them with adult chickens, take the following precautions:
Supervise free-ranging sessions to ensure the chicks are safe from predators.
Make sure the outdoor area is securely fenced to keep predators out.
Allow the chicks to gradually integrate with the adult chickens, providing separate feeding areas initially.
Ensure there are hiding places or safety zones in the outdoor area where the chicks can take cover if needed.
By being cautious and taking these measures, you can protect your baby chicks from potential harm.
Troubleshooting and Problem-Solving: Common Issues Faced While Raising Baby Chicks
A. Addressing common behavioral and health issues
When raising baby chicks, it's important to be aware of common behavioral and health issues that may arise. Here are a few issues you may encounter and how to address them:
Misdirected pecking: Sometimes, chicks may peck at each other's toes or feathers. This can lead to injury or feather loss. To address this, provide enough space for the chicks, ensure they have access to fresh food and water, and consider adding distractions in the brooder like a mirror or pecking stones.
Pasty butt: This is a condition where droppings stick to a chick's vent area, preventing it from passing waste. To remedy this, gently clean the area with warm water and a soft cloth. Afterwards, make sure to keep the brooder clean and dry to prevent further issues.
Stress: Chicks can become stressed due to overcrowding, loud noises, or sudden changes in temperature. To minimize stress, provide a suitable environment with proper ventilation, maintain a consistent temperature, and avoid sudden disturbances.
Respiratory issues: If you notice sneezing, coughing, or wheezing in your chicks, it may indicate respiratory problems. Ensure proper ventilation in the brooder and avoid exposing the chicks to drafts. If issues persist, consult a veterinarian.
B. Preventing and managing feather pecking, cannibalism, and other aggressive behaviors
Feather pecking, cannibalism, and other aggressive behaviors can be detrimental to the well-being of your baby chicks. Here are some strategies to prevent and manage these issues:
Provide adequate space: Overcrowding can contribute to aggressive behaviors. Make sure the chicks have enough space to move around comfortably.
Offer enrichment: Include objects like perches, toys, or pecking stones to provide stimulation and reduce boredom.
Monitor nutrition: Ensure the chicks are receiving a balanced diet with sufficient protein. Nutritional deficiencies can lead to aggressive behaviors.
Separate problem chicks: If certain chicks are consistently exhibiting aggressive behaviors, it may be necessary to separate them from the rest of the flock to prevent further harm.
C. Strategies for supporting weak or underdeveloped chicks
Some baby chicks may be weak or underdeveloped, requiring extra care and support. Here are a few strategies to help these chicks thrive:
Provide a warm environment: Weak chicks may struggle to regulate their body temperature. Use a heat lamp or brooder to maintain a consistent warm temperature.
Assist with feeding: If a chick is having difficulty eating, you can offer mashed-up food or water with electrolytes using a dropper or small syringe.
Isolate if necessary: In some cases, it may be necessary to isolate weak chicks from the rest of the flock to give them a chance to recover and receive more specialized care.
Consult a veterinarian: If a chick's condition does not improve or if you have concerns about its health, seek professional advice from a veterinarian who specializes in poultry.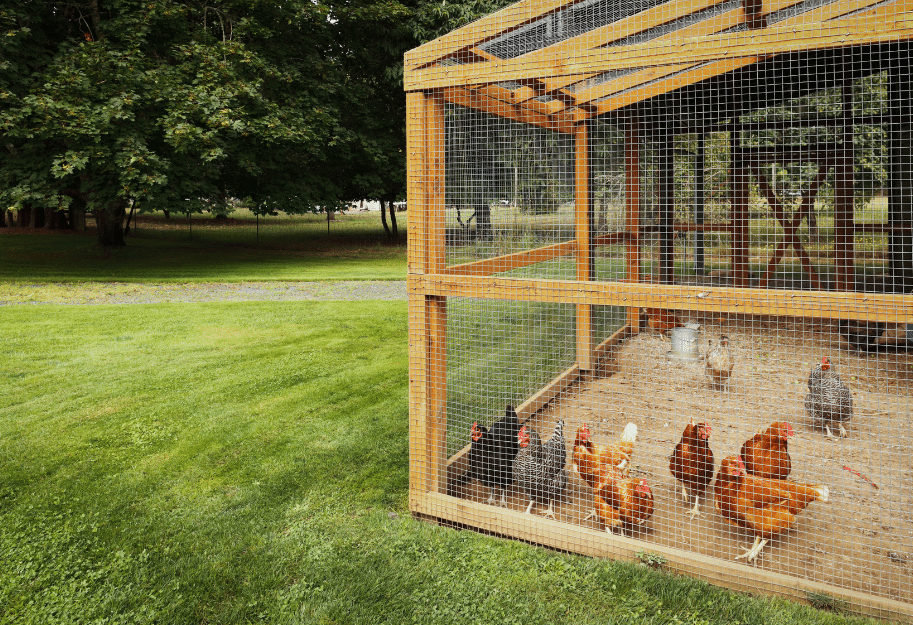 Transitioning to the Coop: Guidelines for Gradually Transitioning Baby Chicks
As your baby chicks grow, it's important to prepare them for their eventual move to the outdoor coop. This transition should be done gradually to ensure the chicks' safety and successful integration into the existing flock. Here are some guidelines to follow:
A. Preparing and gradually acclimating baby chicks to the outdoor coop
1. Age and feather development: Before transitioning to the coop, make sure your chicks are old enough and have developed enough feathers to regulate their body temperature.
Chicks should generally be at least 6 to 8 weeks old.
Feathers should be fully developed, covering most of their body.
2. Temperature adjustments: To prepare your chicks for the outdoor environment, start by reducing the temperature in their brooder gradually.
Decrease the temperature by 5 degrees every week until it matches the ambient temperature of the coop.
3. Outdoor exposure: Once the temperature in the brooder matches that of the coop, you can begin taking your chicks outside for supervised and limited periods of time.
Start with short sessions, gradually increasing the duration over several days.
4. Safe enclosure: Create a small fenced area within the coop where the chicks can explore and roam freely while still being protected from potential threats.
Ensure the enclosure is secure and predator-proof.
Provide shade and shelter within the enclosure to protect chicks from extreme weather conditions.
B. Integrating baby chicks with adult chickens and managing flock dynamics
1. Observation period: Before introducing your baby chicks to adult chickens, allow them to observe each other from a safe distance for a few days.
This observation period helps reduce aggression and helps the chicks get familiar with the flock dynamics.
2. Supervised interaction: Once the observation period is complete, you can begin supervised interactions between the baby chicks and adult chickens.
Keep a close eye on their behavior and intervene if there is excessive pecking or aggression.
Provide plenty of space and resources to minimize competition and establish a hierarchy.
C. Providing suitable coop housing and protection for growing chicks
1. Space requirements: Make sure the coop has enough space to accommodate both the growing chicks and the adult chickens.
Each chicken needs at least 4 square feet of indoor space and 10 square feet of outdoor space.
2. Separation options: Consider installing dividers or partitions within the coop to separate the chicks from the adult chickens initially.
This separation allows the chicks to grow and develop without constant harassment from the adults.
3. Access to food and water: Ensure there are enough feeding and watering stations within the coop to accommodate all the chickens.
Keep the stations at an appropriate height for the chicks to access comfortably.
Monitor the chicks closely to ensure they are getting enough food and water without being bullied by the adults.
By following these guidelines, you can help ensure a smooth and safe transition for your baby chicks as they move from the brooder to the outdoor coop. Remember to monitor their behavior and provide the necessary resources to support their growth and integration into the existing flock.
Additional Resources and Recommendations for Learning and Sourcing Supplies
A. Online and local resources for further learning about raising baby chicks
There are numerous online and local resources available that can provide further knowledge and guidance on raising baby chicks:
Websites: Websites such as Backyard Chickens, The Chicken Chick, and My Pet Chicken offer comprehensive information, articles, and forums specifically dedicated to raising baby chicks.
Online Courses: Online platforms like Udemy and Coursera offer courses on backyard chicken keeping, including raising baby chicks.
Local Workshops and Classes: Check with your local agricultural extension office, community centers, or farming associations for workshops and classes on raising baby chicks.
B. Recommended books, websites, and forums for chicken enthusiasts
If you're looking for even more in-depth knowledge and insights, here are some recommended resources for chicken enthusiasts:
Books: "Storey's Guide to Raising Chickens" by Gail Damerow and "The Chicken Health Handbook" by Gail Damerow are highly regarded books that cover a wide range of topics related to raising and caring for chickens, including baby chicks.
Websites and Forums: The Backyard Poultry and PoultryKeeper websites as well as their respective forums are great sources for connecting with experienced chicken keepers, sharing information, and asking questions.
C. Tips for finding reputable hatcheries and feed stores for chick sourcing and supplies
When it comes to sourcing baby chicks and supplies, it's essential to find reputable and trustworthy hatcheries and feed stores. Here are some tips:
Research and Reviews: Before purchasing chicks or supplies, read online reviews and recommendations from other chicken keepers to ensure the hatchery or store has a good reputation.
Local Hatcheries and Breeders: Check with local hatcheries and breeders that specialize in poultry to find high-quality, locally bred chicks.
Agricultural Supply Stores: Visit reputable agricultural supply stores in your area that carry a wide range of chicken supplies.
Ask for Recommendations: Seek recommendations from experienced chicken keepers or local farming communities for reliable sources of chicks and supplies.
How to Raise Baby Chicks
Hens
Hens are an essential part of raising baby chicks. They play a vital role in providing warmth, protection, and guidance to the young ones. Here are some important things to consider when it comes to hens:
Feed
Proper nutrition is crucial for both hens and baby chickens. Ensure your hens receive a balanced diet rich in essential nutrients. A combination of commercial feed, grains, greens, and kitchen scraps can provide a well-rounded diet for your flock. Remember, a healthy hen means healthy chicks!
Baby Chickens
Hens can be wonderful mothers to baby chickens. They have a natural instinct to care for and protect their young. Keeping the chicks with the hen allows them to learn important behaviors, such as finding food and water, scratching the ground, and interacting with their flock mates. It's a rewarding experience to witness the bond between a hen and her chicks.
Chicken Coop
Providing a safe and comfortable chicken coop for your hens is essential. It should offer sufficient space for the hens and have secure fencing to protect them from predators. Make sure the coop is well-ventilated and has nesting boxes for the hens to lay their eggs. Regularly clean the coop to maintain a healthy environment and prevent the spread of diseases.
Buying Hens
When buying hens, it is important to choose healthy birds from reputable sources. Look for lively, active hens with bright eyes and clean feathers. Avoid purchasing from overcrowded or unsanitary environments, as this can increase the risk of diseases such as salmonella.
Salmonella Precautions
Salmonella is a bacterial infection that can be found in poultry, including chickens. It is important to handle chickens, eggs, and their environment with proper hygiene to reduce the risk of infection. Wash your hands thoroughly after handling chickens, their eggs, or anything in their living area. Cook eggs thoroughly before consumption to eliminate any potential bacteria.
Summary
Hens are vital for raising baby chicks successfully. Ensure their nutrition, provide a suitable coop, and take necessary precautions to prevent salmonella. By caring for your hens, you are creating a nurturing environment for your baby chicks and fostering a healthy flock.
Chicks
Raising baby chicks requires proper care and attention to ensure their healthy growth. Here are some essential tips to consider:
Feeding
Proper feeding is crucial for the development of baby chicks. They should be given a balanced diet that is specifically formulated for their age. A starter feed is recommended for the first few weeks, which provides the necessary nutrients for their rapid growth. Gradually transition to a chick grower feed as they mature. Ensure that their feed is always fresh and easily accessible.
Note: Avoid feeding them medicated feed unless prescribed by a veterinarian.
Heat
Baby chicks require a warm and comfortable environment to thrive. They need a constant source of heat, especially during the initial weeks of their lives. A brooder lamp or heat plate should be used to maintain the appropriate temperature. The temperature should be around 95-100 degrees Fahrenheit in the first week, and gradually decrease by 5 degrees each week until they no longer need supplemental heat.
Note: Ensure that the chicks have enough space to move away from the heat source if they feel too warm.
Raising
When raising baby chicks, it's important to provide a clean and safe living space for them. A brooder box or designated area, lined with bedding materials like straw or wood shavings, should be prepared. Make sure the box is secure, as baby chicks are vulnerable to predators. Regularly clean their living space to prevent the buildup of waste and bacteria.
Provide enough space for the chicks to move around freely.
Avoid overcrowding, as it can lead to stress and health issues.
Consider using a draft shield to maintain a consistent temperature within the brooder box.
Water
Water is essential for the well-being of baby chicks. Clean and fresh water should always be available to them. Consider using a shallow waterer to prevent drowning. Check the waterer regularly to ensure it is not clogged or dirty. Additionally, adding vitamins and electrolytes to their water can provide an extra boost for their growth and development.
Note: When introducing water to chicks for the first time, dip their beaks gently into the water to show them its location.
Bedding
One essential aspect of raising baby chicks is providing them with the right bedding. A clean and comfortable environment not only promotes their health but also encourages their growth and development.
When choosing bedding for your baby chicks, it's important to consider their specific needs at this delicate stage. Here are some key points to keep in mind:
Type of Bedding
There are several suitable options for bedding materials, such as pine shavings, straw, or shredded paper. These materials provide good insulation and help absorb moisture, keeping the bedding dry and preventing the chicks from getting chilled.
Be sure to avoid using cedar shavings or sawdust as bedding, as they can release harmful oils or toxins that could negatively affect your chicks' respiratory system.
Depth of Bedding
The depth of the bedding is crucial for the comfort and safety of your baby chicks. Aim for a depth of around 1-2 inches initially, keeping in mind that they will scratch and scatter the bedding as they grow. Regularly check and add more bedding as needed to maintain the desired depth.
Having enough bedding not only provides a cushioned surface for the chicks but also helps regulate their body temperature by trapping warmth.
Placement of Feed and Water
When setting up the bedding area, make sure to place the feed and water containers in a safe and accessible location for the chicks. You can use shallow dishes or specialized chick feeders and waterers, ensuring they are kept at an appropriate height to prevent chicks from accidentally tipping them over.
Temperature Control
As baby chicks are not able to regulate their body temperature effectively, providing an external heat source is crucial in the early stages. A heat lamp or heat-emitting element should be installed overhead, maintaining an optimal temperature between 90-95°F (32-35°C) for the first week, gradually decreasing it by 5°F (2-3°C) every subsequent week until they are fully feathered.
The bedding plays a vital role in temperature regulation by helping to retain heat and insulate the chicks from drafts.
Choose appropriate bedding materials such as pine shavings, straw, or shredded paper.
Maintain a depth of 1-2 inches, adding more bedding as needed.
Place feed and water containers in a safe and accessible location.
Provide a suitable heat source, such as a heat lamp, to maintain proper temperature.
By ensuring the right bedding for your baby chicks and creating a comfortable living space, you are setting them up for a healthy and successful journey from chick to adult.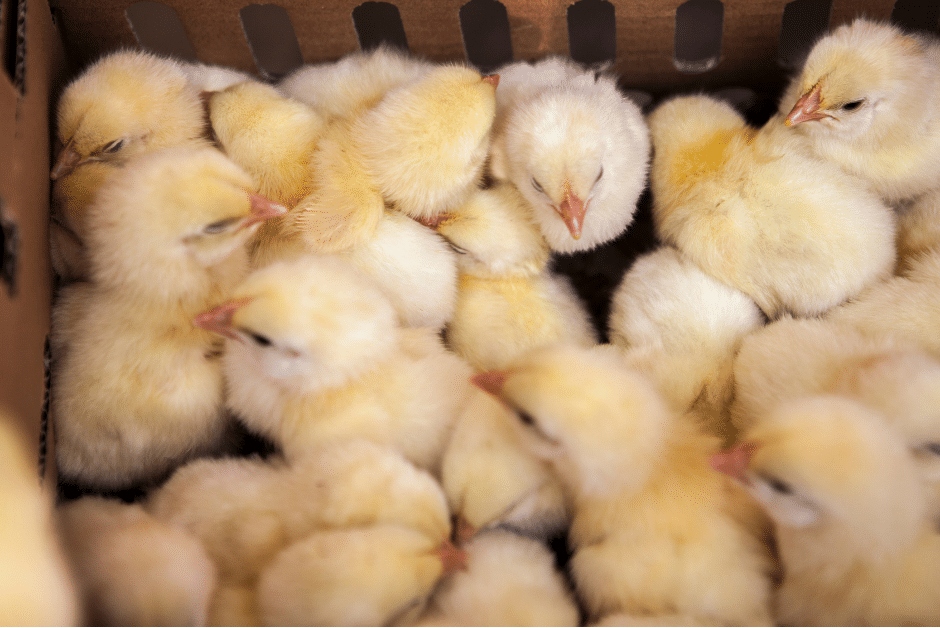 Raise Baby Chicks
When it comes to raising baby chicks, there are a few important things to keep in mind to ensure their proper growth and development.
Provide a Warm and Comfortable Environment
One of the most crucial aspects of raising baby chicks is to create a warm and comfortable environment for them. Chicks require a consistent temperature of around 95°F during their first week of life. You can achieve this by setting up a heat lamp or brooder box with a heat source to maintain the required temperature.
Offer a Balanced Diet
Feeding baby chicks a balanced diet is essential for their healthy growth. They need a high-quality starter feed that is specifically formulated for young chicks. This feed typically contains all the necessary nutrients, vitamins, and minerals required for their development. Additionally, providing access to clean freshwater is vital to keep them well-hydrated.
Ensure Proper Hygiene and Cleanliness
Keeping the brooder box or coop clean is crucial for the chicks' health. Regularly clean out any soiled bedding, feces, or spilled feed. Dirty and damp conditions can lead to the growth of harmful bacteria, which can cause illness or disease in the chicks. By ensuring a clean and hygienic environment, you significantly reduce the risk of health problems.
Allow for Adequate Space and Socialization
Adequate space is another important factor when raising baby chicks. They require enough room to move around freely, stretch their wings, and engage in natural behavior. Be sure to provide enough space in the brooder box or coop to accommodate their growth. Socialization is also crucial for their mental and emotional well-being. Consider introducing them to other chicks gradually to promote healthy social interactions.
Monitor Their Development and Health
Regularly monitor the chicks' development and health to ensure they are growing as they should. Keep an eye out for any signs of illness, such as lethargy, loss of appetite, or unusual behavior. If you observe any concerning symptoms, consult a veterinarian experienced in poultry care immediately.
Raising baby chicks can be a rewarding experience, but it requires attention to detail and proper care. By providing a warm and comfortable environment, a balanced diet, maintaining cleanliness, and monitoring their health, you can raise happy and healthy chicks.